Champaign Home Building Guide
"Before You Build a New Home in the Champaign, IL Area… Find Out How to Get Top Quality and Workmanship… While Avoiding Critical Mistakes… And Save Thousands!"
Dear Future Champaign, IL Home Builder Friend,
At long last, a long over due home building guide has been released that shares insider information of how to save thousands when you build that home you've been thinking about here in Champaign, IL area. It's called Champaign Home Building Guide—Insider Reveals Little-Known Secrets to Saving Thousands. It's 52 pages of powerful information you must have if you're deliberating about building a new home in Champaign, Urbana, Savoy, Mahomet, St. Joseph or anyplace in between here in IL—no matter how large or how small or what price range.
And you can get your FREE copy today, with not a single catch. No charge and nothing to buy—just good old fashioned, useful information.
Now you're probably saying to yourself, "Nothing is free these days." Well, today there is something for free. There are still good people willing to help others out and yes, this guide is completely free. And you can use it to your advantage to learn about home building and, specifically, building the new home you're thinking about.
Continue to read and let me explain…
Hello future Champaign, IL area new home builders! My name is Steven Drake and I have an immense amount of experience relating to home building. You see, I've been building great new homes for a long time… 30 years to be exact. Over this time, I've had the great fortune to work with over 2,500 families here in Champaign Urbana, and all over the great State of Illinois. I've helped them all accomplish their dream of home building and I've enjoyed every moment of it.
This home building business has to be one of the most gratifying businesses on the planet as it relates to helping people. It's really enjoyable to help folks realize the American dream. And most of the time, building a home is a dream that's been entrenched in our hearts for years. The most enjoyable part of my job is observing my customers' response when walking into their new home. I've seen gigantic smiles, tears of pleasure, hard-to-hold-back emotion; and I've been the recipient of hundreds of genuine hugs of gratitude and satisfaction.
This is the number one reason I love my business and home building: helping the good people of Champaign, IL and the surrounding lands here in IL realize their home building dreams!
My business, Drake Homes, has earned a reputation for building superior crafted homes here in Champaign, IL, for which we've enjoyed earning one family and home at a time.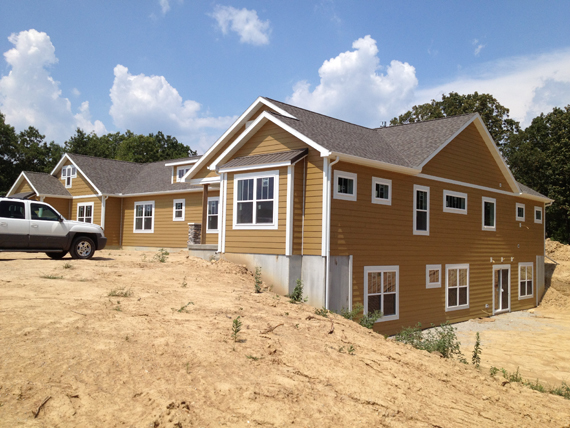 I'm telling you this not to brag or sales pitch you, claiming to be the only quality home builder in the Champaign, IL area…
Completely false. My intent is to provide straight-up information and facts—reasons why it makes sense for you to read on; hear my advice and tips relating to building a home here in Champaign, IL.
The bottom line is this: I've experienced and witnessed 30 years of home building here in Champaign, IL. From my own hands-on learning to studying and learning from other local and national home builders (from the exceptional to the not so exceptional), I have a wealth of information to share. Deliberately, I've documented what I've learned, viewed and heard. My goal has always been to create a helpful consumer home builder guide to completing home building plans. And finally, after many years of wanting to "get it done," I've made time to put it together in order to divulge it all to you in this resourceful guide. The information you're about to learn could be the breaker between a successful home building project completed on time, of top guild-quality workmanship and on budget, vs. one that is bogged down with constant struggles, costly oversights and ultimately poor construction.
Let me be candid with you a moment:
I know the Champaign, IL new home building business like the back of my hand. And that includes the surrounding IL communities of Atwood, Bement, Blue Ridge, Bondville, Broadlands, Cerro Gordo, De Land, Farmer City, Fisher, Foosland, Gibson City, Gifford, Homer, Ivesdale, Lodge, Longview, Ludlow, Mahomet, Mansfield, Melvin, Monticello, Ogden, Paxton, Pesotum, Philo, Piper City, Rantoul, Roberts, Royal, Sadorus, Savoy, Sibley, Sidney, St. Joseph, Stelle, Thomasboro, Tolono and White Heath.
I also know the following subdivisions in their entirety…
Chestnut Grove, Champaign, IL

Trails at Brittany, Champaign, IL

Abbey Fields, Champaign, IL

Ironwood, Champaign, IL

Will's Trace, Champaign, IL

Sawgrass, Champaign, IL

Trails Edge, Champaign, IL

Boulder Ridge, Champaign, IL

Stone Creek, Champaign, IL

Landis Farm, Champaign, IL

Yankee Ridge, Champaign, IL

Prairie Fields, Champaign, IL

Cherry Hills, Champaign, IL

Lake Falls, Champaign, IL

Stone Creek, Urbana, IL

Landis Farm, Urbana, IL

Yankee Ridge, Urbana, IL

Prairie Fields, Savoy, IL

Lake Falls, Savoy, IL

Liberty on the Lake, Savoy, IL

Heritage Estates, Fisher, IL

Sangamon Oaks, Monticello, IL

Jefferson Grove, Monticello, IL

Long Grove, Monticello, IL

Shady Lane, Monticello, IL

Walden Pond, Monticello, IL

Breezy Meadows, Monticello, IL

Ridge Pointe, Monticello, IL

Apple Tree, Monticello, IL

Willow Branch Estates, Monticello, IL

Turtle Creek, Monticello, IL

Hunter's Ridge, Mahomet, IL

Thornewood, Mahomet, IL

Cobble Creek, Mahomet, IL

Conway Farms, Mahomet, IL

Summerfield Estates, Mahomet, IL

Fox Run, Mahomet, IL

Deer Hollow, Mahomet, IL

Natures Landing, Mahomet, IL

Roessler Meadows, Rantoul, IL

Indian Hills, Rantoul, IL

Crestlake, St. Joseph, IL

Crestview, St. Joseph, IL

Holly Ridge, St. Joseph, IL

Wiltshire, St. Joseph, IL
So why not let me put my experience to work for you by sharing with you a practical, proven, step-by-step approach to getting the home you're thinking about built. It only makes smart sense for you.
Here's a quick glance of what you the "home builder" will discover when you read the guide:
Six key advantages of buying a new house versus and existing homein the Champaign area

How to avoid home builder change orders and save thousands as a result

Simple step to minimize common challenges many face when building a new house

35 Essential questions to scrutinize when buying a building site in Champaign Urbana, St. Joseph, Mahomet, Savoy and other parts of Central Illinois – what you must ask your home builder

How construction loans work

How to find or create home plans and designs that work here in Champaign and Central IL

Important factors you need to think about before you begin building a new home in Champaign, IL
Also discover:
A simple way to compare your must haves and wants when building new home

The worst thing you can do when selecting a home builder to work with

The very 1st thing you think about and do when considering home building

The reason why 98% of new home builders shouldn't be a GC (general contractor)

What to look for and how to pick a Champaign construction lender

Six tips to selecting the right home builder for the home you're planning in Champaign, IL

What to look for in home builders and how to know if the home builder you're considering hiring builds homes crafted to last

How to save thousands by catching home builder's tricks

How a shell package might benefit your plans from a cost savings perspective

A simple way to compare home builder's estimates, line by line, and eliminate paying too much or too little up-front
And this is the start of what you'll learn.
As a Home Builder You Deserve to Be Completely Informed When You Go To Build Your New Home.
If you've made it this far you're obviously considering the option of building a home now or sometime down the road here in Champaign, IL. Do yourself and family a favor and get your copy of this eye-opening guide.
Fill in the simple form above and we'll email you the guide upon clicking the Enter button. Read the information closely, and when you're comfortable you decide what to do next about your home building plans.
I wish you great success in your home building undertakings. And if you decide to build with Drake Homes, I'm looking forward to building a top-crafted home exactly to your needs.
Good luck,